About Us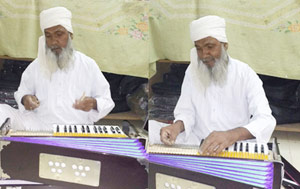 We have the capacity, technology and efficiency to repair every Make (Calcutta Make, Mumbai Make and North Indian) harmoniums, all kind (5 to 11 stopper, Double to Multi-bellow, Bassmale to madeen. Indian reed to German classical reeds) and all formats (simple to 11 changers, foot Pump Organs to latest Hand Bellow) harmoniums.
The Harmonium repair team is Headed by Ustaad Liyakat Ali, who is into the Harmonium Making & repair for last 48 years. Ustaad Liyakat Ali had started his journey from Kanpur at the age of 8 with his Guru and graduated by working intensively in Calcutta (10 years), Mumbai (7 years), and Bhopal (5 years) and in Delhi since 1982. Ustaad is a super specialist of SCALE CHANGER HARMONIUMS and HARMONIUM WITH GREEN REEDS.
Ustaad is assisted by his Son Mr. Sarafat Ali, who is into the business for last 15 years. We repair Acoustic Tanpura, Sitars and other Indian String Instruments to your satisfaction.